UGC campaigns open your company up to more authentic, relatable content.
A 2016 study by Lloyds Banking Group shown to Marketing Week found that only 19% of people featured in advertisements are from a minority group, a number falling short of reality. Opening up your marketing through a UGC campaign can make numbers better represent the real world, and opens your company up to more authentic content that Gen Z relates to.
In a world where younger people grew up with corporate stock photos substituting for real people, Gen Z craves realness and representation. A UGC campaign provides a limitless opportunity for diverse faces and narratives since there's no barrier for real people to take part. Companies who embrace this diversity are likely to connect more with their audience because people are drawn to images that accurately reflect them and their needs.
Inspire Your Audience with Reality
When Aerie launched their #AerieREAL campaign a few years ago, with the promise not to retouch any of their models, they resonated with an audience that craved authentic representation. This declaration inspired a wave of selfies and photos of customers flaunting their Aerie merchandise. That's why the campaign resonates with audiences and has continued on, to this day.
In 2016, American Eagle reported that Aerie's 2015 sales were up 20%; in Q4 of 2015, they rose 26%, attributing a major role of the success to the label's body-positive campaign. The campaign has evolved into what their executive team refers to as a "platform," and was referred to in their 2018 earnings calls.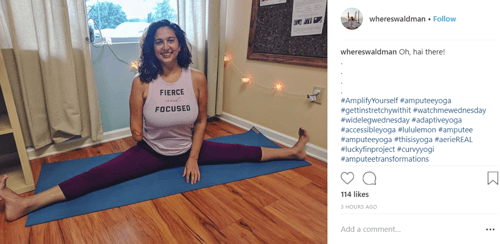 By opening up marketing to the public it's much more difficult to neglect diversity in a campaign. The #AerieREAL campaign shows that the more that people see themselves represented, the more likely they are to include themselves in the dialogue. This leads to greater brand exposure, makes people feel good about their bodies, which creates a more favourable general opinion of the company.
When People Share Cultural Moments
Amidst another round of the perennial "Happy Holidays vs. Merry Christmas" debate, UK grocery chain Sainsbury's decided to create an advertisement that originated from crowd-sourced videos depicting real people from a diverse range of backgrounds singing along to a jingle they'd created for Christmas 2017 as part of its "living well for less" campaign.
Even though the advertisement didn't feature any seasonal merchandise, it represented the holiday that brings so many people together through food. And 4.7 million views later, it's become a signature staple of the Sainsbury's brand.
Final Thoughts
It's become en vogue for marketers to aim for diversity in their traditional campaigns. But, embracing UGC goes a step further to truly showcase what your customers really look like. Doing this has the potential to resonate with more people, through accurately representing reality.
Have a look at our guest post by writer Sarah Hagi, who covers how brands can discover diverse narratives.
Interested in learning more about Wattpad Brand Partnerships? Contact us at brandpartnerships@wattpad.com.