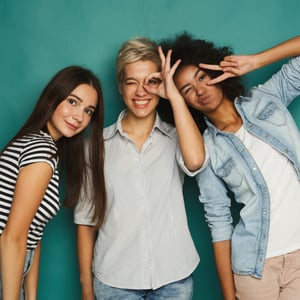 Advertising messages targeting Gen Z must be useful, honest, and well-placed.
Gen Z has developed the most refined BS detectors in the world. For good reason — they grew up through the recession of '08, incredibly nuanced digital advertising, and endless sensational stories, scandals, and stunts in the press.
In today's advertising, we see celebrities and influencers living the lavish life and having their needs met by the latest technological advancement while wearing the "right" brands. But through the media environment they grew up in, Gen Z knows that life isn't perfect, and they don't expect it to be. As such, they prefer a different type of advertising message — one that doesn't involve keeping up with the Joneses or the Jetsons (see figure on right; image via Futurecast).
This pragmatism also means that Gen Z remains loyal not to a brand's image, but to companies who are most useful and real to them. While Gen Z can be brutally honest in calling out brands who aren't real, they also appreciate a well-placed, useful promotion that suits their needs.
Appeal to Gen Z's practical nature
You see, Gen Z is a passionate, self-starting cohort that's not afraid to think outside the box as far as income and creativity are concerned. Gallup's 2011 survey showed the depth in entrepreneurial passions. Nearly 8 in 10 students (77%) in grades 5 through 12 say they want to be their own boss, and 45% say they plan to start their own business. 42% say they will invent something that changes the world. The younger half of these students are now the ones that make up Gen Z.
Moreover, a 2017 study of 2,000 UK adults conducted by Open University showed that 97% of millennials and Gen Z are most driven by career and financial goals. Confidence and concern about support networks required to set up a business holds over half (59%) of them back.
There's clearly a disconnect here…
Side hustles aren't necessarily about money
Open University reports that the majority of Gen Z already participate in a 'side-hustle' venture, using creative websites, blogs, e-commerce platforms, and social media (such as eBay [81%], Facebook [76%], Instagram [71%], Amazon [59%], and Gumtree [59%]). Half (53%) of this group don't rely on their job to provide their only income.
In other words, Gen Z is all about taking opportunities as they see them, and exploring new avenues for economic gain and artistic expression. This creativity extends beyond just the market; the arts and storytelling side of things also grabs and holds them.
And it's about more than just money. It doesn't take a record contract to make music professionally anymore, and Gen Z is finding subtle ways to nurture their creative side.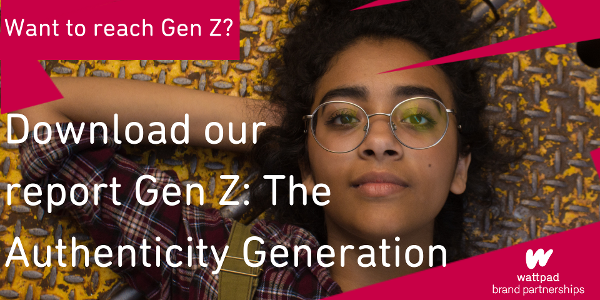 Push Gen Z's creative endeavors forward
Gone are the days of messages like "buy this gadget and life will be perfect!" It's time to propel these young adults forward with their creations and assist them in their ventures. Support Gen Z and enable them to continue creating. They won't forget you helped them out.
This doesn't have to be complicated — for example, with equipment, it could simply be a program offering discounted pricing, like Canon or Henry's, but extending beyond students and into general youth.
Audit your brand's assets
There's no more valuable currency to a Wattpad writer than an extra opportunity to share their words with engaged readers—getting paid to do what you love is, of course, a close second. That's why, when Warner Brothers asked us to help promote Girl on the Train on Wattpad, we partnered with some of our top writers on a single piece of original content, inspired by the movie. Giving writers the creative agency to do their thing on a bigger stage was a dream come true for them—and the campaign was a runaway success with 1.9 million total minutes spent reading the original story Off the Track.
Sponsorships can go far beyond impressions. Your marketing organization has finances and alliances that you can lend out to Gen Z creators. Don't spend time trying to craft a message the old fashioned way — audit your team's assets. Ask yourself: what do I have to offer that will be useful to Gen Z? and they will repay you with their loyalty, social advocacy, and publicity.
Learn how Ben & Jerry's Canada reached Gen Z through launching a philanthropic write-a-thon on Wattpad.

Interested in learning more about Wattpad Brand Partnerships? Contact us at brandpartnerships@wattpad.com.